Radial Press Holder/Steel Stamps
Radial Press Holder and Dies
CMR Radial Type holders are designed to specific customer requirements for marking circular impressions on flat surfaces.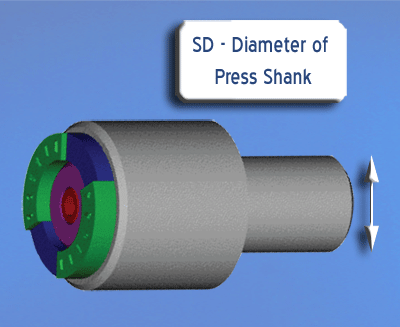 When Ordering CMR Radial Stamp Holders Please Specify the Following Information:

Character Size
Radius to center of character (R1)
Number of Recesses
Type Capacity of Each Recess
Shank Diameter (SD) & Length (SL)
Pilot Diameter (PD) & Length (PL) Required*
Quantity of Letter & Figure Type Required
Quantity of Spacers Required

*PD and PL: Diameter and length of pilot (shown in red).
Ideal for marking gear blanks, cutter, pulleys, shafts, bearings, wheels and bushings.

CMR Radial Type and multi-character segment stamps come in two different styles:
| | |
| --- | --- |
| CMRA Style | CMRB Style |