CNC Roll Stamp Holder
Printer Friendly Quote Example
Automatic Roll Stamp Holder
In-line operation allows for efficient marking during primary operations
Completely eliminates need for secondary marking process
Ideal for fittings, couplings, nozzles, collars and many other parts turned in a lathe, screw machine, multiple spindle or chucking machines
Roll style options include spring return with locking feature, or spring return
Adaptors and custom mounts available
Special designs available including free running holder designed for multiple revolution marking and knurling

Model R800 and R500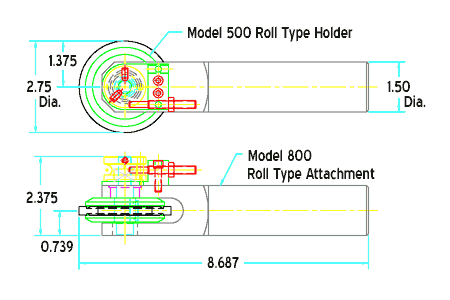 Screw machine adapters and holders are special tools developed to mark round parts while they are being turned in a lathe, turret lathe, or automatic screw machine. The mark is usually applied just before the cut-off operation. These holders, mounted directly in the tool posts or screw machine stations, are the stud style construction which permits marking close to the chuck or collet and simplifies the die or holder changes.

Model R900 - Specially designed for use in CNC turning centers

Roll Dies for Model R900 Please specify character size and marking legend required.
Tool clearance ½"
Standard shank for model 900 is ¾" or 1" sq.
Outside die mount is required for marking within 1/32" of collet nose
Marking dies can be either roll type holder with interchangeable type or roll dies with permanent marking legend

All dimensions are approximate. Please request current drawing of configuration required.

How to Order Holders
Will die be mounted LEFT or RIGHT of shank?
Specify RPM and TYPE of machine on which holder will be used.
Minimum distance from collet to point of marking on the part.
Specify whether TOP of impression is TOWARD or AWAY from the collet.
Specify the ROTATION of the spindle (looking into the collet end of the machine)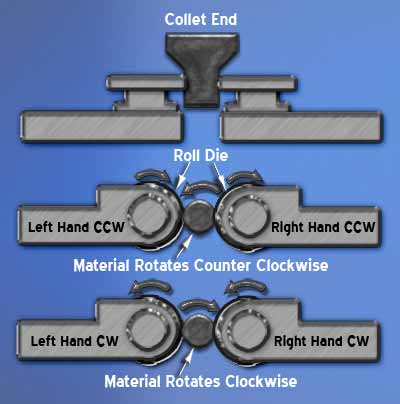 Wedge Style CMN Series Stamps

Fits in CMT R500 roll type holder and other brands
Machined engraved for durability
50% cost saving over competitors